Home
About Us
FAQ
Privacy Policy
Contact Us
Books
DVDs
VHS
Charts
Audio Books
General Information
Secure Order Form
Mail & Fax Orders
Shipping Rates

Mastercard
Visa, Discover
* * *
Phone Toll Free:
1-877-577-8743
within U.S.A.
* * *
International
1-336-246-2663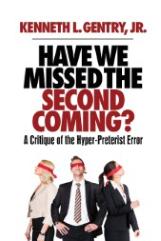 HAVE WE MISSED THE SECOND COMING?
A Critique of the Hyper-Preterist Error

Kenneth L. Gentry, Jr., 2016


$18.95
Ships within
24 hours!


Perhaps the title of this book intrigues you: Have We Missed the Second Coming? But if you are in an evangelical church a real possibility exists that you might soon experience a new doctrine invading your church and disrupting its peace. The hyper-preterist movement teaches that Jesus' second coming occurred in the first century when the Jewish temple was destroyed in AD 70. And that the great resurrection occurred at the same time. And that resurrection body is spiritual rather than physical. And that the judgment of men occurred in AD 70 as well. And many other errors.
Hyper-preterism is a new theological construct in evangelical circles. It has developed a rather enthusiastic and combative body of followers. What they lack in numbers, they make up for in noise. This book offers a brief introduction, summary, and critique of the system. Don't let your church and Christian friends be blindfolded to this new error. To be forewarned is to be forearmed.

---
TABLE OF CONTENTS
List of Abbreviations
Preface
The Preterist System Introduced
The Hyper-preterist Errors Summarized
The Foundational Texts Analyzed
The Resurrection Texts Considered
The Transition Text Recognized
The Creedal Denial Critiqued
Conclusion
Select Scripture Index
Subject Index

---
AUTHOR PROFILE
Kenneth L. Gentry, Jr., Th.D., is Director of GoodBirth Ministries, a Christian educational ministry. He has pastored in conservative Presbyterian churches for more than forty years. He has authored or co-authored over thirty books, including two Zondervan CounterPoint books on eschatological themes.

---
BOOK SPECIFICATIONS
150 pages, paperback, Scripture index, subject index.
ISBN 9780982620687