THE BABYLONIAN CONSPIRACY SERIES - Four Volumes

Jack Gresham, 2010-2013



Save $13.85 by purchasing all four books together!

Writer and futuristic thinker, Jack Gresham is the author and creator of the best-reading, spiritually guided Four-Book Fiction Series "The Babylonian Conspiracy" where the reader might wonder, "Could this ever happen?" The line between fiction and reality possibilities loses its sharp demarcation as the story line of the four books reaches its conclusion.


---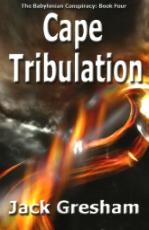 CAPE TRIBULATION
The Babylonian Conspiracy - Book Four

Jack Gresham, 2013



Mohammed, now named Sargon, the newly proclaimed Mahdi of Islam, reaches global dominion except for Israel and the Covenant Lands of the indigenous on Cape York Peninsula, Far North Queensland, Australia, including Cape Tribulation. Harold and Sarah travel again to Cape York to meet with the Elder, on Thursday Island. Sargon journeys to that small corner of the world, Cape Tribulation, as a world leader and finds he has no power to change the course chosen by those who stand against him. Mohammed (not Sargon) returns to the Cape to be with those who have the knowledge of what the future holds; without the ability to change it; only the resolve to live it. 275 pages, paperback.


---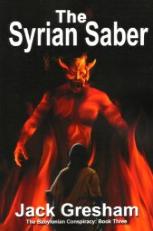 THE SYRIAN SABER
The Babylonian Conspiracy - Book Three

Jack Gresham, 2012



When Mohammed returns to the end of Book One, as can only be done in fiction, he chooses to walk through the second door into another time line. Although the year 2017 is the same, it is a different world. His ten years in a life of the other choosing is not in his memory banks. He is a changed man with unchanged aspirations in search of a new way with a new name. In his desire to give rise to a new world order, he enters into a contract with Lucifer, a fallen angel, to call upon spiritual forces of darkness in the hope that he can accomplish good. The Directory has a similar ambition while using the power of wealth. The indigenous of Cape York Peninsula in Far North Queensland, Australia become the mission target for Harold and Sarah Warren, also born in 1980, who live in New York. Their work begins in 2013 in Mohammed's first time line. 275 pages, paperback.


---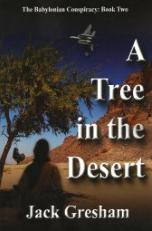 A TREE IN THE DESERT
The Babylonian Conspiracy - Book Two

Jack Gresham, 2010



Mohammed makes his first choice. He has labored in Babylon for four years espousing a peaceful jihad after being refreshed by a fresh Wind from the Desert. Now he must make a choice between two doors, each holding life possibilities not known by him. He walks through the one of his choosing to find himself still in the year 2017. The world has not changed, but Mohammed is a changed man. His alliance with a Christian and a Jew through several unusual life events and dreams broadens his spiritual horizon and he finds new meaning in his Muslim faith when he joins with them in 2017 in a common endeavor to assuage the devastation of war and stand against the destruction of terrorism. At the end, Mohammed walks alone along the Euphrates between Hillah and Babylon where he faces two familiar doors. 311 pages, paperback.


---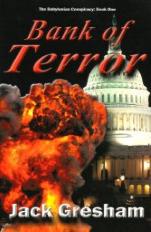 BANK OF TERROR
The Babylonian Conspiracy - Book One

Jack Gresham, 2010



Bank of Terror, is framed in our present time line that ventures into a fictional future. In 1980, half way around the world from each other, Mohammed, Marsha Phillips, and Michael Finnerty begin life in unusual circumstances. They will be mixed in an international terrorist plot in 2013. Mohammed's followers steadily grow during the early years of his international promotion of a peaceful jihad. Many who follow him do so out of convictions similar to his own, but there are those who come along for the ride with the hope of someday converting him to a war of terror for the cause of jihad. Such were the aspirations of an American terrorist cell who sent him the funds robbed from the New York Federal Reserve Bank under threat of a nuclear bomb planted in Washington D.C. Mohammed strives to find a way to return the stolen funds without betraying the trust of his Muslim brothers. 275 pages, paperback.


---
AUTHOR PROFILE
JACK GRESHAM spent three years flying F86Ds in the Air Defense Command out of Maguire Air Force Base in New Jersey before earning his medical degree at the University of Miami School of Medicine in 1961. He continued training to specialize in orthopedic surgery. He was in private practice in Orlando, Florida for thirty-seven years during which time he served four years as the Director of Orthopedic Education at Orange Memorial Hospital.
He and his wife Moena spent five years establishing a Western-style orthopedic surgery and rehabilitation department in a Saudi Arabian hospital in the early eighties. Before retiring, they went on many medical mission trips to the Ukraine, and one each to Brazil and Africa.
He resides with his wife in Orlando, Florida. He and Moena have three children and five grandchildren. They celebrated their fifty-ninth wedding anniversary on November 19, 2012.

---
TOP | HOME
Copyright 2013 by Cliffside Publishing House