Home
About Us
FAQ
Privacy Policy
Contact Us
Books
DVDs
VHS
Charts
Audio Books
General Information
Secure Order Form
Mail & Fax Orders
Shipping Rates

Mastercard
Visa, Discover
* * *
Phone Toll Free:
1-877-577-8743
within U.S.A.
* * *
International
1-336-246-2663
PROPHECY FOR KIDS

Doug Batchelor, 2012



A Colorful, Amazing Bible Prophecy Adventure! Your youngest Bible explorers will be dazzled and thrilled with each and every page in this colorful, easy-to-understand prophecy learning adventure with Pastor Doug Batchelor. Watch their faith and amazement build as, step by step, they see how God and His Word can be trusted through the fulfillment of prophecy throughout human history. From Babylon to the birth, death, and resurrection of Jesus to the last days and His second coming, your kids will see their future is a very exciting one and that putting their faith in Jesus today is the most important thing they can do! 42-page booklet, illustrated. View: Historicist.
---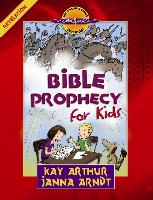 BIBLE PROPHECY FOR KIDS
Revelation 1-7

Kay Arthur & Janna Arndt, 2006



Young explorers can join the dynamic Bible detective team of Max, Molly, and Sam-the amazing beagle-for an adventure they will never forget. Through Bible word studies, activities, and clever investigation, kids will discover the secrets of Revelation, including
what heaven is like
why the future is exciting
how their faith today relates to end times
Excellent stories and lots of action create a child-friendly study of end times ideal for Sunday school classes, Bible studies, and independent study. 160 pages, paper.
More Information, Table of Contents, Author Profiles
---
HEAVEN IS FOR REAL FOR KIDS
A Little Boy's Astounding Story of His Trip to Heaven and Back

Todd & Sonja Burpo, 2011



Colton Burpo came back from his trip to heaven with a very important message: Jesus really, really loves children. In an effort to reach even more families with this eternally significant story, this runaway bestseller is now told from Colton—kid to kids! Children will receive the same comfort and assurance that so many adults have received from the trade book. Beautifully illustrated by Wilson Ong under Colton's direction, he shares his experiences in first person and comments on things that will be important to kids. A letter to parents is included to guide them as they talk to their children about heaven. Scripture along with a Q&A section with answers from the Bible are also included in the book. 32 pages, hardcover.
---
TOP | HOME
Copyright 2013-2016 by Cliffside Publishing House