Home
About Us
FAQ
Privacy Policy
Contact Us
Books
DVDs
VHS
Charts
Audio Books
General Information
Secure Order Form
Mail & Fax Orders
Shipping Rates

Mastercard
Visa, Discover
* * *
Phone Toll Free:
1-877-577-8743
within U.S.A.
* * *
International
1-336-246-2663
THE COMING OIL STORM
The Imminent End of Oil... and Its Strategic Global Role in End-times Prophecy

Ron Rhodes, 2010


$13.95
Ships within
24 hours!


Ron Rhodes, a leading scholar on biblical prophecy, reveals how looming tensions over oil factor into end-time global alignments and how they may lead to a dramatic shift in the balance of power in the world. Much of the world's oil is in the custody of unstable and sometimes hostile regimes. Nations around the world are positioning themselves to protect their shrinking piece of the pie of dwindling oil reserves. Global tensions continue to rise. In The Coming Oil Storm Rhodes documents the role of Islam as the religion in control of most of the world's oil reserves and shows convincingly that once Muslims are in possession of the two swords of oil and nuclear weapons, they will feel empowered to act as they wish. Oil could even play a role in the path to Armageddon. The Coming Oil Storm is an essential guide for understanding the state of the world today…and what's yet to come. 218 pages, paperback, appendix, bibliography.
More Information, Table of Contents, Author Profile.
---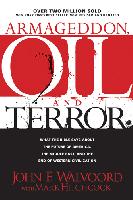 ARMAGEDDON, OIL AND TERROR
What the Bible Says About the Future
John F. Walvoord with Mark Hitchcock, 1974, 1976, 1990, 2007



Today's troubling world events confirm the forecasts made by Dr. John F. Walvoord, widely recognized as the father of modern biblical prophecy. His predictions once seemed beyond the realm of possibility--until they began coming true. It was Walvoord who correctly predicted Israel's establishment as a nation; who foresaw that the Iron Curtain would fall; and who warned us that oil would make the Middle East the center of world conflict. Now, this completely revised edition of his New York Times best seller, Armageddon, Oil and the Middle East Crisis, unveils twelve shocking world events that are still to come. 225 pages, paper.

More Information, Table of Contents, Author Profile.
More Books by John Walvoord.


---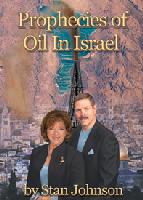 PROPHECIES OF OIL IN ISRAEL - DVD

Stan Johnson, 2008



On November 27 th, 2007, President Bush, Mahmoud Abbas, and Ehud Olmert signed an agreement to give the Palestinians a State in 2008. At that same time Stan Johnson was asked to form a new oil company to drill an oil well at the Southwest End of the Dead Sea. Will there be oil found in Israel? Will it cut off oil to Islam and build up Israel's military for WWIII and lead to Armageddon? Find out in this new DVD! Topics include: Over 17 Prophecies of Oil in Israel; Milk and Honey prophecy is Grease and Stickiness; Is it Time for Oil to be discovered in Israel? Where Is The Oil? Spindletop; Oil discovery causes Jews to receive Jesus; Wealth of the Nations Gathered into Israel; The Hook in the Russians Jaw; and 16 Reasons Stan Johnson is Called to start a new oil company and Find Oil in Israel! Two hours, 40 minutes on DVD. DVD Region Code 1 (U.S. & Canada)
---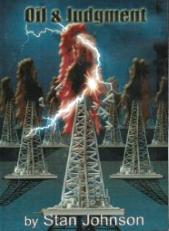 OIL & JUDGMENT - DVD

Stan Johnson, 2005



Will America see the nuclear conflict coming or will it be a surprise? Will God be with America in the next nuclear conflict? What will the events be leading up to the next Middle East conflict? What would America have to do to avert judgment coming upon it? Stan Johnson expounds on several dreams given to both he and Leslie concerning oil in Israel and ties them to the End-times march to Armageddon. In addition, he covers several Scriptural reasons why the largest oil field in the world will be discovered in Israel. Stan ties the warning given through Dumitru Duduman, Henry Gruver, and reveals several dreams and prophetic words from various prophets to help understand the days ahead. Two hours, 40 minutes. DVD Region Code 1 (U.S. & Canada)


---
TOP | HOME
Copyright 2010-2017 by Cliffside Publishing House