Home
About Us
FAQ
Privacy Policy
Contact Us
Books
DVDs
VHS
Charts
Audio Books
General Information
Secure Order Form
Mail & Fax Orders
Shipping Rates

Mastercard
Visa, Discover
* * *
Phone Toll Free:
1-877-577-8743
within U.S.A.
* * *
International
1-336-246-2663
THE GLOBAL-WARMING DECEPTION
How a Secret Elite Plans to Bankrupt America and Steal Your Freedom

Grant R. Jeffrey, 2011



The worldwide effort to combat manmade global warming is history's most far-reaching hoax. In The Global-Warming Deception, Grant R. Jeffrey documents the orchestrated campaign of political pressure, flawed science, and falsified data—all designed to sell an environmental lie and bring the West to its knees. United Nations agencies use the threat of rising ocean levels, crop failure, expanding deserts, and the extinction of species to convince western nations to surrender their sovereignty. As these developments play out, we see the globalists consolidating their power. In The Global-Warming Deception, you will find proof that:
Laws and regulations to reduce carbon emissions are designed to destroy the free-enterprise system and drain wealth from western nations.
The religion of eco-fundamentalism denies the existence of God and substitutes in His place the worship of the earth.
The coming economic collapse, hastened by global-warming laws, will lead to international chaos. A one-world government will be presented as the solution, followed by the arrival of the Antichrist.
Your liberty is at stake. Now is the time to learn all you can about the socialist-Marxist elite that is advancing the false threat of global warming—the most deadly deception in history. 215 pages, paperback.
More Information, Table of Contents, Author Profile
More Books by Grant Jeffrey
---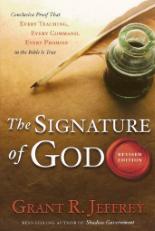 THE SIGNATURE OF GOD: Third Revised Edition
Conclusive Proof That Every Teaching, Every Command, Every Promise in the Bible Is True

Grant R. Jeffrey, 2010



This revised and updated edition of The Signature of God proves that the Bible is not only accurate in its spiritual claims, but is completely reliable as well on matters of origins, medicine, history, and science. Historians of the ancient world--as well as recent archaeological finds--confirm the names of kings and kingdoms, and the dates of wars and mass migrations mentioned in the Bible. Recent breakthroughs in astronomy, physics, and medical science have shown that God's Word accurately described the universe and the processes of human life before scientific research caught up. And hundreds of fulfilled prophecies show that God revealed the future to his prophets in order to undergird the faith of his people. No matter how loudly the skeptics argue against Christian faith, only one conclusion makes sense: the Bible is God-breathed. You can believe every word, every claim, every prophecy, and every miracle. With no doubts. 336 pages, paper, bibliography.

More Information, Table of Contents, Author Profile
---
STARTLING PROOFS: Does God Really Exist? - DVD

Peter & Paul Lalonde, 1995



In this fast moving docudrama you'll see the incredible evidence that God does exist. New discoveries in science, creation, archaeology, and the sudden and rapid fulfillment of bible prophecy are all convincing the most determined skeptics to take a second look. See how genetic research points to a divine creator; how mathematics and physical laws disprove the big bang; how biology disproves evolution; how astronomy points to a young earth and many, many more Startling Proofs. You be the judge. Featuring notable scientists and leading bible scholars like Grant Jeffrey, Dave Breese, Dave Hunt and Chuck Misler, this is one video that you can share with your unsaved friends and loved ones. 60 minutes on DVD. Language: English. Region Code 1.
---
TOP | HOME

Copyright 2011-2012 by Cliffside Publishing House