Home
About Us
FAQ
Privacy Policy
Contact Us
Books
DVDs
VHS
Charts
Audio Books
General Information
Secure Order Form
Mail & Fax Orders
Shipping Rates

Mastercard
Visa, Discover
* * *
Phone Toll Free:
1-877-577-8743
within U.S.A.
* * *
International
1-336-246-2663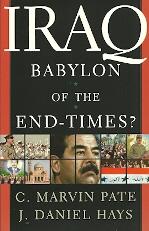 IRAQ: BABYLON OF THE END-TIMES?

C. Marvin Pate and J. Daniel Hays, 2003


$6.50
Retail $12.95
Save: $6.45 (50%)
Ships within
24 hours!


Authors Pate and Hays believe in biblical prophecy, but they also know it's crucial to distinguish correct interpretations of prophecy from incorrect ones. Iraq--Babylon of the End-Times? provides a sensible approach to examining current events in the Middle East in light of biblical prophecy and geopolitical history.
With clear and persuasive arguments it sheds light on questions such as:
Are the political enemies of America the biblical enemies of God?
How accurate is the biblical interpretation popularized by the Left Behind Series?
What is the significance of Saddam Hussein's self-identification with Nebuchadnezzar?
According to Bible prophecy, must Babylon be rebuilt and destroyed again?
Are the modern-day Iraqis related to the ancient Babylonians?
Could Daniel's "revived Roman Empire" refer to the European Union or United Nations?
---
TABLE OF CONTENTS
The Russians Are Out and the Muslims Are In
Saddam and the Glory of Babylon
The Biblical Nemesis of Israel
Must Babylon Be Destroyed Again?
The Coming Muslim Invasion of Israel
Babylon as the Symbol of Evil?
Rome and the Rise of Babylon in the Book of Revelation
Nebuchadnezzar to Saddam and Beyond
Are We Entering the End-Times?
Notes

---
AUTHOR PROFILES
C. Marvin Pate and J. Daniel Hays are professors at Ouachita Baptist University in Arkansas. Pate, formerly a professor at Moody Bible Institute, is the author of more than ten books, including a number of prophecy-related titles such as Doomsday Delusions and Four Views on Revelation. Hays is coauthor of Grasping god's Word: A Hands-On Approach to Reading, Interpreting, and Applying the Bible.

---
BOOK SPECIFICATIONS
143 pages, paper.
ISBN 0801064791