Home
About Us
FAQ
Privacy Policy
Contact Us
Books
DVDs
VHS
Charts
Audio Books
General Information
Secure Order Form
Mail & Fax Orders
Shipping Rates

Mastercard
Visa, Discover
* * *
Phone Toll Free:
1-877-577-8743
within U.S.A.
* * *
International
1-336-246-2663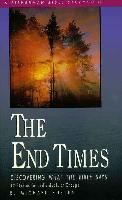 THE END TIMES
Discovering What the Bible Says
12 Studies for Individuals or Groups

E. Michael Rusten, 1997



What does Scripture say about the end of the world? The guide looks at the major biblical themes and passages related to the end times. You will discover fresh insights on Jesus' second coming, the antichrist, the millennium, the final judgment and more. Study guide offers: Penetrating questions that generate discussion; Flexible format for groups or individual needs; Helpful leader's notes; Emphasis on daily application of Bible truth.

---
TABLE OF CONTENTS
Introduction
How to Use This Studyguide
An Overview of the End Times
Matthew 24:1-31
When Will Christ Return?
Matthew 24:32-25:13
The Antichrist and the Great Tribulation
Matthew 24:4-29; Selections from Revelation 13-17; Daniel 7:1-7
The Second Coming of Christ
John 14:1-6; Acts 1:1-11; 1 Thessalonians 3:13; 4:13-18
The Resurrection of the Dead
1 Corinthians 15:1-58
God's Plan for Israel
Romans 11:1-36
The Day of the Lord and the Wrath of God
1 Thessalonians 5:1-11; 2 Thessalonians 2:1-4; Joel 2:31-32; Revelation 15:1-16:11
The Battle of Armageddon
Joel 3:1-21; Revelation 16:12-16; 19:7-21
The Judgment Seat of Christ
1 Corinthians 3:6-15; 2 Corinthians 5:1-10; Revelation 11:15-18
The Millennium
Revelation 20:1-10
The Final Judgment
Revelation 19:1-4; 20:11-15
The New Heaven and the New Earth
Revelation 21:1-22:9
Leader's Notes
Appendix A: Views of End-Times Events
Bibliography and Resources

---
AUTHOR PROFILE
E. Michael Rusten is a Bible teacher and writer living in Minnesota. He has a masters in theology from Trinity Evangelical Divinity School and wrote his Ph.D. dissertation on the book of Revelation.

---
BOOK SPECIFICATIONS
88-page booklet, appendix
ISBN 0877882347