Home
About Us
FAQ
Privacy Policy
Contact Us
Books
DVDs
VHS
Charts
Audio Books
General Information
Secure Order Form
Mail & Fax Orders
Shipping Rates

Mastercard
Visa, Discover
* * *
Phone Toll Free:
1-877-577-8743
within U.S.A.
* * *
International
1-336-246-2663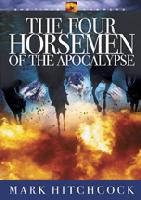 THE FOUR HORSEMEN OF THE APOCALYPSE

Mark Hitchcock, 2004



The image of the four horsemen of the Apocalypse in Revelation 6:1-8 is one of the most vivid and powerful in all the writings of the prophets. Their presence speaks of a coming day of horror - the first four judgments of the tribulation. White, red, black, and pale, they will wreak destruction around the world. Prophecy expert Mark Hitchcock takes an in-depth look at the horsemen and shows how today's events point toward the prophecy about them. Signs all around us indicate that the four horsemen of the Apocalypse may be ready to mount up and gallop across the earth.

---
TABLE OF CONTENTS
Introduction
Riders on the Storm
Before the Stampede
The Rider on the White Horse
The Bringer of War
The Black Stallion
Pale Rider
The Fifth Horseman of the Apocalypse
Ready to Ride?

Notes
---
AUTHOR PROFILE
Mark Hitchcock is a PhD candidate of Dallas Theological Seminary and the author of twelve books, including The Second Coming of Babylon, The Truth Behind Left Behind, and the successful End Times Answers series. He has pastored Faith Bible Church in Edmond, Oklahoma since 1991.

---
BOOK SPECIFICATIONS
112 pages, paper.
ISBN 1590523334