Home
About Us
FAQ
Privacy Policy
Contact Us
Books
DVDs
VHS
Charts
Audio Books
General Information
Secure Order Form
Mail & Fax Orders
Shipping Rates

Mastercard
Visa, Discover
* * *
Phone Toll Free:
1-877-577-8743
within U.S.A.
* * *
International
1-336-246-2663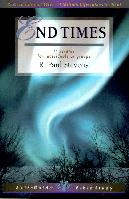 END TIMES: 12 Studies for Individuals or Groups
A LifeGuide Bible Study

R. Paul Stevens, 1994, 2004



We all wonder about the end--when it will come, what it will be like and what will happen to us. This guide gives a solid overview of what the Bible syas about end time--and helps us be ready to face the future.

---
TABLE OF CONTENTS
Getting the Most Out of End Times
PART 1: UNDERSTANDING THE END TIMES

The Last Days Are Here! Acts 2
He Will Come Back John 14:1-27
Signs of the Times Mark 13
Grappling with Radical Evil 2 Thessalonians 2
God's Timing--and Ours Joel 2:12-32
The Future of the Human Person 1 Corinthians 15: 12-28, 35-44, 58
The Beautiful Judgment of God Malachi 2:17-3:5; 3:13-4:3
Imagining the New Heaven and the New Earth Ezekiel 43:1-12; 47:1-12

PART 2: LIVING FOR THE END

Waiting with Hope Matthew 25:1-13, 31-46
Speeding the End 2 Peter 3
Making Forever Friends Luke 16
Investing in Heaven 1 Thessalonians 4:13-5:11; 2 Thessalonians 3:6-18
Going to the Lamb's Wedding Revelation 7:9-17; 19:1-10; 21:1-9

Leader's Notes
---
AUTHOR PROFILE
R. Paul Stevens is a professor at Regent College in Vancouver and the author of a number of books and Bible study guides with over a half million LifeGuide Bible Studies in print.

---
BOOK SPECIFICATIONS
96-page booklet, leader's notes.
ISBN 0830830723