Home
About Us
FAQ
Privacy Policy
Contact Us
Books
DVDs
VHS
Charts
Audio Books
General Information
Secure Order Form
Mail & Fax Orders
Shipping Rates

Mastercard
Visa, Discover
* * *
Phone Toll Free:
1-877-577-8743
within U.S.A.
* * *
International
1-336-246-2663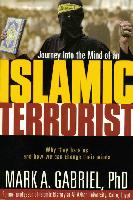 JOURNEY INTO THE MIND OF AN ISLAMIC TERRORIST

Mark A. Gabriel, Ph.D., 2006



The Western media are so busy analyzing who, what, where, when, and how that they never answer the question of why. This book is about the why behind Islamic terrorism. Dr. Mark Gabriel makes a major breakthrough by identifying the five pillars of radical philosophy--the bedrock beliefs that cut through all radical writings. Dr. Gabriel uses the writings of Osama bin Laden, ayman al-Zawahiri, and others to show how terrorists justify their actions through the Quran, the life of Muhammad, and Islamic history. Finally, Dr. Gabriel describes how earlier terrorist groups were stopped and shows how the world can work together to stop the terrorists of today.
---
TABLE OF CONTENTS
Preface
Introduction
SECTION 1: A WALL BETWEEN BROTHERS

My Best Friend Kamal
Grassroots Radicalism in Egypt

SECTION 2: THE ISLAMIC GREAT AWAKENING

The Founders
The Evangelists
The Prisoners
The Aristocrats

SECTION 3: THE FIVE PILLARS OF RADICAL ISLAMIC PHILOSOPHY

Pillar 1: No Law but Islamic Law
Pillar 2: Infidels Are All Around
Pillar 3: Islam Must Rule
Pillar 4: Jihad Is the Only Way to Win
Pillar 5: Faith Is the Reason

SECTION 4: WARNING ABOUT DECEIT

Deception: An Art of War Practiced by Radicals
Al-Zawahiri's Teachings on Deceit

SECTION 5: FOLLOWING MUHAMMAD'S FOOTSTEPS

Muhammad: Uncensored
The Unrelenting Bloodbath
Ibn Taymiyyah: Linking Muhammad to Modern Times

SECTION 6: HOPE FOR THE FUTURE

Calling Radicals to Cease-fire
The Quran for the Twenty-first Century
Take Religion Out of the Fight
Engage the Silent Muslim Majority

Epilogue
Notes
Glossary
Bibliography
Index
Author's Academic Credentials
---
AUTHOR PROFILE
Mark A. Gabriel, PhD, grew up as a devout Muslim in Egypt, earned a doctorate in Islamic history and culture, and taught at Al-Azhar University, Cairo, the most prestigious Islamic university in the world. As a practicing Christian for more than a decade, he has earned a master's degree in world religions and a PhD in Christian education. His previous books inlcude Islam and Terrorism, Islam and the Jews, and Jesus and Muhammed.

---
BOOK SPECIFICATIONS
219 pages, paper, glossary, index.
ISBN 1591857139