Home
About Us
FAQ
Privacy Policy
Contact Us
Books
DVDs
VHS
Charts
Audio Books
General Information
Secure Order Form
Mail & Fax Orders
Shipping Rates

Mastercard
Visa, Discover
* * *
Phone Toll Free:
1-877-577-8743
within U.S.A.
* * *
International
1-336-246-2663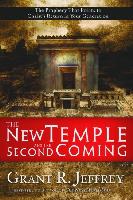 THE NEW TEMPLE AND THE SECOND COMING
The Prophecy That Points to Christ's Return in Your Generation

Grant R. Jeffrey, 2007



Prophecy expert Grant Jeffrey has uncovered not only the prophecies about the end times, but also an array of archaeological finds and discoveries from the ancient city hidden beneath modern-day Jerusalem. The evidence is breathtaking: Jewish authorities are preparing to rebuild the Temple in Jerusalem. His research leads to a stunning conclusion that the generation alive today will witness the Second Coming.

You will examine the biblical prophecies and research data that together solve end-times mysteries, including:
the search for lost Temple treasures
revealing discoveries in underground Jerusalem
the process of recreating sacred Temple vessels
unexpected clues revealed in the Copper Scroll and the Ezekiel Tablets
the lastest plans for rebuilding the Temple
---
TABLE OF CONTENTS
Preface
Introduction: Rebuilding the Temple
The Countdown to Christ's Return
Preparing the Way for the Third Temple
Recent Discoveries Have Removed Several Major Obstacles to Rebuilding
The Glory of Jerusalem's Temple
Re-creating the Sanctuary of God on Earth
Recovering Lost Temple Treasures
Pursuing the Clues Found in the Copper Scroll
Exploring the Ancient City Underneath Jerusalem
Fascinating Discoveries in the Subterranean City
The Third Temple in the Last Days
How Plans to Build the Temple Signal Christ's Soon Return
Practical Preparations for Rebuilding the Temple
Reconvening the Sanhedrin, Recovering the Oil of Anointing, and Preparing for the Red-Heifer Sacrifice
New Vessels for Temple Worship
Re-creating the Sacred Instruments Used in Old Testament Sacrifice
The Ark of the Covenant and the Third Temple
Reliable Reports on the Location of the Ark
Preparing for the Coming Messiah
The Events of the Last Days Are Upon Us
Appendix: Possible Sequence of Key Prophetic Events
Notes
Select Bibliography

---
AUTHOR PROFILE
Dr. Grant Jeffrey, PhD, is an internationally respected author, speaker, and Bible researcher who appears frequently on radio and television. An authority on prophecy and apologetics, Grant is the author of more than twenty best-selling books--including The Next World War, War on Terror, and Armageddon. His popular TV program, Bible Prophecy Revealed, airs twice a week on Trinity Broadcasting Network.

---
BOOK SPECIFICATIONS
204 pages, paper.
ISBN: 9781400071074