Home
About Us
FAQ
Privacy Policy
Contact Us
Books
DVDs
VHS
Charts
Audio Books
General Information
Secure Order Form
Mail & Fax Orders
Shipping Rates

Mastercard
Visa, Discover
* * *
Phone Toll Free:
1-877-577-8743
within U.S.A.
* * *
International
1-336-246-2663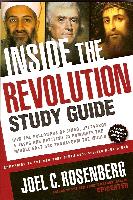 INSIDE THE REVOLUTION STUDY GUIDE

Joel C. Rosenberg, 2009



In this companion piece to the best-selling Inside the Revolution, Joel C. Rosenberg takes you inside the Revolution and answers your questions:
How real and serious is the threat of Radical Islam to American national security eight years after 9/11?
Are there any Muslim leaders who oppose the violence of the Radicals—and is there any hope that such leaders will come to power in key countries in the Middle East?
What is God doing in the Middle East—and is there any hope that Muslims will find faith in Jesus Christ?
How can Christians help strengthen those who love Jesus in the Muslim world, and how can we reach out to Muslims here at home?
---
TABLE OF CONTENTS
Author's Note
Introduction: Not "If" but "When"
PART ONE:
the RADICALS

Worst-Case Scenario
"Islam Is the Answer; Jihad Is the Way"
The Theology of the Radicals
"We Were Asleep"
Tragedy at Desert One
"We Must Export Our Revolution"
Christmas in Kabul
Declaring War on America
Unleashing the Islamic Bomb
Terror High
Revolution 2.0
Making Way for the Mahdi
The Road Ahead

PART TWO:
the REFORMERS

"Islam Is the Answer, but Jihad Is Not the Way"
The Theology of the Reformers
The Defector
Meet Hamid Karzai
Karzai's Mission
"We Are Fighting Islamic Fascists"
Meet Jalal Talabani
Talabani's Test
The King and I
The Moroccan Model

PART THREE:
the REVIVALISTS

"Islam Is Not the Answer, and Jihad Is Not the Way; Jesus Is the Way"
The Big, Untold Story--Part One
The Big, Unotld Story--Part Two
The Air War
The Ground War--Part One
The Ground War--Part Two
The Theology of the Revivalists
Making Way for the Messiah
Join the Revolution
Afterword
Loving Muslims to Christ
Recommended Reading

---
AUTHOR PROFILE
Joel C. Rosenberg is the New York Times best-selling author of The Last Jihad, The Last Days, The Ezekiel Option, The Copper Scroll, Deat Heat, Epicenter and Inside the Revolution, with more than 1.5 million copies in print.

---
BOOK SPECIFICATIONS
177 pages, paper.
ISBN 9781414333250