Home
About Us
FAQ
Privacy Policy
Contact Us
Books
DVDs
VHS
Charts
Audio Books
General Information
Secure Order Form
Mail & Fax Orders
Shipping Rates

Mastercard
Visa, Discover
* * *
Phone Toll Free:
1-877-577-8743
within U.S.A.
* * *
International
1-336-246-2663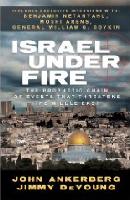 ISRAEL UNDER FIRE: The Prophetic Chain of Events that Threatens the Middle East

John Ankerburg & Jimmy DeYoung, 2009



Israel Under Fire has the key ingredients for readers who track today's news, scriptural predictions, and Israel:
Incisive evaluation of Middle East events
Expert understanding of Bible prophecy and end–times happenings
Exclusive interviews with religious and political leaders such as Benjamin Netanyahu, former Israeli prime minister; Moshi Arens, three–time Israeli defense minister; and Adnan Husseini, Yasser Arafat's cousin and Palestinian Authority spokesman
Ankerberg and DeYoung, co–host of Day of Discovery and noted prophecy expert, examine signs that point—now—toward apocalyptic conflict:
Temple rebuilding: Jewish religious leaders plan it on a site still controlled by Islam.
Threats to Israel: internally, a burgeoning Arab population; externally, instability from the Palestinians' Hamas–Fatah split.
Iran's intentions: to "wipe Israel off the map"...possibly utilizing nuclear weapons.
Readers will gain unparalleled insight into the massive historical currents converging on Israel...and promising to generate inescapable consequences for the West. 207 pages, paper, appendix.

---
TABLE OF CONTENTS
Foreword by Dr. Tim LaHaye
Introduction: Why Should We Care About Israel's Future?
Part One: Israel's Prophetic Destiny
A People Regathered
A Nation Reborn
A Land Resettled
A City Reunited

Part Two: The Alignment of the Nations Against Israel

An Alignment Reformed
A Conflict Rekindled
A Threat Reassessed
A Battle Reanalyzed

Part Three: Preparations for the Future Jewish Temple

Preparations for the Temple: The Plans and the People
Preparations for the Temple: The Tools and the Modern Sanhedrin

Part Four: Investigating Israel in the Book of Revelation

The Three Pillars of the Book of Revelation
The Rapture, the Return of Christ, and the Retribution
The Most-Asked Questions About the Book of Revelation
A Final Word
Appendix A: Interview Transcripts Featuring Benjamin Netanyahu
Appendix B: Interview Transcripts Featuring Retired U.S. Lieutenant General Jerry Boykin
Experts Interviewed for Israel Under Fire
Notes

---
AUTHOR PROFILES
John Ankerberg, host of the award–winning John Ankerberg Show, has coauthored the two-million-selling Facts On series of apologetic books, as well as Taking a Stand for the Bible and Middle East Meltdown.
Jimmy DeYoung, author, conference speaker, and journalist/host on Day of Discovery, has his finger on the pulse of the world's hot spot, the Middle East.

---
BOOK SPECIFICATIONS
207 pages, paper, appendix.
ISBN 9780736925846