Home
About Us
FAQ
Privacy Policy
Contact Us
Books
DVDs
VHS
Charts
Audio Books
General Information
Secure Order Form
Mail & Fax Orders
Shipping Rates

Mastercard
Visa, Discover
* * *
Phone Toll Free:
1-877-577-8743
within U.S.A.
* * *
International
1-336-246-2663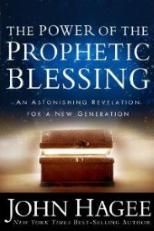 THE POWER OF THE PROPHETIC BLESSING
An Astonishing Revelation for a New Generation

John Hagee, 2012


$14.95
Ships within
24 hours!


It's a wonderful secret the Jewish people have known for centuries. A gift Christians have neglected for far too long. It is the life-transforming power of the "Prophetic Blessing." And in this remarkable book by pastor and New York Times best-selling author John Hagee, you'll learn what it is, the way it is presented throughout the narrative of Scripture, and most importantly, how you can release it into the lives of your loved ones and receive it in your own life.



---
TABLE OF CONTENTS
SECTION 1
DEFINING THE PROPHETIC AND PRIESTLY BLESSINGS
The Power of the Prophetic Blessing
Born to Be Blessed
The Genesis Blessing
The Abrahamic Blessing

SECTION 2
THE PROPHETIC BLESSINGS

To Bless or Not to Bless?
The Blessings Fulfilled
The Eight Prophetic Blessings of Jesus

SECTION 3
RELEASING AND RECEIVING THE BLESSING

Releasing the Prophetic Blessing through the Spoken Word
Releasing the Prophetic Blessing through Touch
Receiving the Prophetic Blessing
Proclaiming the Prophetic Blessing
Notes

---
AUTHOR PROFILE
John Hagee is the author of four New York Times bestsellers, in addition to Jerusalem Countdown, which sold over one million copies. He is the founder and senior pastor of Cornerstone Church in San Antonio, Texas, a non-denominational evangelical church with more than 20,000 active members, as well as the founder and president of John Hagee Ministries, which telecasts his radio and television teachings throughout America and in 249 nations worldwide. Hagee is also the founder and national chairman of Christians United for Israel, a national grassroots association with over one million members to date.

---
BOOK SPECIFICATIONS
304 pages, paperback.
ISBN 9781617953224