Home
About Us
FAQ
Privacy Policy
Contact Us
Books
DVDs
VHS
Charts
Audio Books
General Information
Secure Order Form
Mail & Fax Orders
Shipping Rates

Mastercard
Visa, Discover
* * *
Phone Toll Free:
1-877-577-8743
within U.S.A.
* * *
International
1-336-246-2663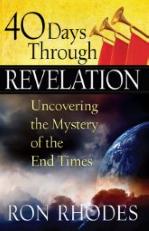 40 DAYS THROUGH REVELATION
Uncovering the Mystery of the End Times

Ron Rhodes, 2013



The book of Revelation begins and ends with guarantees that its inspiring message leads to blessing. Popular Bible teacher and author Ron Rhodes guides readers on an encouraging journey through this prophetic book, interpreting its picturesque language and revealing its reassuring promises. Each short chapter is perfect for a group Bible study or a personal quiet time and includes…
Scripture Reading and Insights—a short passage of Revelation and easy-to-understand notes on each verse
Major Themes—brief summaries of the most important ideas
Digging Deeper with Cross-References—several other passages readers can look up on relevant topics
Life Lessons—practical and helpful applications to everyday life
Questions for Reflection and Discussion—thought-provoking starters for group discussions or personal journaling
Readers who may have been confused or intimidated by Revelation will appreciate this easy-to-understand and practical presentation of its empowering truths.

---
TABLE OF CONTENTS
Introduction
John's Introductory Prologue (1:1-8)
John's Awesome Vision (1:9-20)
The Churches at Ephesus and Smyrna (2:1-11)
The Churches at Pergamum and Thyatira (2:12-29)
The Churches at Sardis and Philadelphia (3:1-13)
The Church at Laodicea (3:14-22)
God's Majestic Throne in Heaven (4)
He Who Is Worthy: Jesus Christ (5)
The First Four Seal Judgments (6:1-8)
The Fifth and Sixth Seal Judgments (6:9-17)
The 144,000 Jewish Evangelists (7:1-8)
The Great Multitude of Believers (7:9-17)
The Seventh Seal Judgment (8:1-6)
The First Four Trumpet Judgments (8:7-13)
The Fifth and Sixth Trumpet Judgments (9)
The Message of the Little Scroll (10)
The Ministry of the Two Prophetic Witnesses (11:1-6)
The Death, Resurrection, and Ascension of the Two Witnesses (11:7-14)
The Seventh Trumpet Judgments (11:15-19)
The Outbreak of War (12)
The Rise of the Antichrist (13:1-4)
The Blasphemy of the Antichrist (13:5-10)
The Rise of the False Prophet (13:11-14)
The False Prophet's Exaltation of the Antichrist (13:15-18)
Announcements from Heaven (14)
Prelude to the Bowl Judgments (15)
The First Four Bowl Judgments (16:1-9)
The Fifth, Sixth, and Seventh Bowl Judgments (16:10-21)
The Fall of Religious Babylon (17)
The Fall of Commercial Babylon, Part 1 (18:1-8)
The Fall of Commercial Babylon, Part 2 (18:9-24)
Shouts of Hallelujah and the Marriage Supper of the Lamb (19:1-10)
The Second Coming of Christ (19:11-16)
The Campaign of Armageddon (19:17-21)
Christ's Millennial Kingdom (20:1-6)
Satan's Final Rebellion and the Great White Throne (20:7-15)
The Descent of the New Jerusalem (21:1-8)
A Description of the New Jerusalem (21:9-27)
The Delights of the New Jerusalem (22:1-5)
John's Epilogue (22:6-21)
Postscript
Bibliography
Notes

---
AUTHOR PROFILE
Ron Rhodes, president of Reasoning from the Scriptures Ministries, is heard regularly on nationwide radio and is the author of The End Times in Chronological Order, The Topical Handbook of Bible Prophecy and Unmasking the Antichrist. He holds ThM and ThD degrees from Dallas Theological Seminary and teaches there and at several other seminaries.

---
BOOK SPECIFICATIONS
304 pages, paperback, bibliography.
ISBN 9780736948272