Home
About Us
FAQ
Privacy Policy
Contact Us
Books
DVDs
VHS
Charts
Audio Books
General Information
Secure Order Form
Mail & Fax Orders
Shipping Rates

Mastercard
Visa, Discover
* * *
Phone Toll Free:
1-877-577-8743
within U.S.A.
* * *
International
1-336-246-2663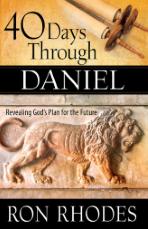 40 DAYS THROUGH DANIEL
Revealing God's Plan for the Future

Ron Rhodes, 2016


$14.95
Ships within
24 hours!


The book of Daniel holds the distinction of being one of the most important prophetic books in the Bible--and one of the most challenging to understand. Now you can unearth its inspiring lessons and enduring truths in just 40 daily readings. You'll be amazed to see how prophecies from the sixth century BC are unfolding today. To help you personally interact with the vital truths of Daniel, trusted Bible teacher Ron Rhodes provides...
easy-to-understand notes on each verse
brief summaries of the most important ideas
helpful cross-references on relevant topics
practical applications to everyday life
thought-provoking conversation starters
As you see God's faithfulness on display in the lions' den, in the fiery furnace, and in the rise and fall of world empires, you'll gain a deep sense that God is in control.

---
TABLE OF CONTENTS
Introduction
Daniel's Historical Circumstances (1:1-7)
Daniel's Faithfulness (1:8-16)
Daniel Rises in Favor Before the King (1:17-21)
Nebuchadnezzar's Dreams (2:1-6)
God Reveals the Meaning of the Dream to Daniel (2:17-23)
Daniel Informs Nebuchadnezzar That God Has Revealed the Meaning (2:24-30)
Daniel Reveals the Meaning of the Dream to Nebuchadnezzar (2:31-49)
Nebuchadnezzar Makes a Golden Image to be Worshipped (3:1-7)
Shadrach, Meshach, and Abednego Are Accused (3:8-12)
Shadrach, Meshach, and Abednego Remain Faithful to God (3:13-18)
God Rescues Shadrach, Meshach, and Abednego from the Fiery Furnace (3:19-30)
Nebuchadnezzar Praises God and Has a Second Dream (4:1-7)
Nebuchadnezzar Reveals His Second Dream to Daniel (4:8-18)
Daniel Interprets the Second Dream (4:19-27)
Nebuchadnezzar Is Humiliated and Later Restored (4:28-37)
Belshazzar Parties It Up and Sees Handwriting on the Wall (5:1-9)
Belshazzar Requests Daniel to Interpret the Handwriting (5:10-16)
Daniel Interprets the Words of Doom (5:17-31)
A Plot Is Launched Against Daniel (6:1-9)
Daniel Is Thrown into the Lions' Den (6:10-17)
God Protects Daniel (6:18-23)
The God of Daniel Is Exalted (6:24-28)
Daniel's First Vision, Part 1 (7:1-8)
Daniel's First Vision, Part 2 (7:9-14)
Daniel's Vision Interpreted, Part 1 (7:15-22)
Daniel's Vision Interpreted, Part 2 (7:23-28)
Daniel Has Another Vision (8:1-14)
Details on Daniel's Vision (8:15-27)
Daniel Prays for His People, Part 1 (9:1-7)
Daniel Prays for His People, Part 2 (9:8-27)
Daniel Prophesies About the 70 Weeks (9:20-27)
Daniel Is Visited by an Angel (10:1-9)
The Angel Explains the Future to Daniel (10:10 - 11:1)
Prophecies Concerning Key Nations (11:2-19)
Prophecies Concerning Antiochus Epiphanes (11:20-35)
Prophecies Concerning the Antichrist (11:36-45)
Prophecies Concerning the Time of the End (12:1-4)
The Words of the Prophecy Are Sealed (12:5-13)
Imitating Daniel
Notes
Bibliography

---
AUTHOR PROFILE
Ron Rhodes,ThD, president of Reasoning from the Scriptures Ministries, is heard regularly on nationwide radio and is the author of The End Times in Chronological Order, 40 Days Through Revelation and Unmasking the Antichrist. He teaches at Dallas Theological Seminary and several other seminaries.

---
BOOK SPECIFICATIONS
298 pages, paperback, bibliography.
ISBN 9780736964456