Home
About Us
FAQ
Privacy Policy
Contact Us
Books
DVDs
VHS
Charts
Audio Books
General Information
Secure Order Form
Mail & Fax Orders
Shipping Rates

Mastercard
Visa, Discover
* * *
Phone Toll Free:
1-877-577-8743
within U.S.A.
* * *
International
1-336-246-2663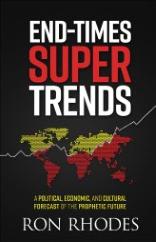 END-TIMES SUPER TRENDS
A Political, Economic, and Cultural Forecast of the Prophetic Future

Ron Rhodes, 2017


$14.95
Retail $15.99
Ships within
24 hours!


Pressure is rising. The global atmosphere is morphing as never before. It's time to pay attention to the warnings around us that point to inevitable catastrophes to come. Bible prophecy expert Ron Rhodes analyzes 15 current trends that affect us on a global, national, and personal scale—suggesting some inescapable consequences to our safety, rights, and way of life. Become informed on impending calamities such as...
the escalation of cyber warfare
the deterioration of religious freedom
the dissolution of the family unit
With eye-opening statistics and a helpful examination of Scripture, Rhodes clearly shows where trends are leading while advocating a response based on hope, truth, and preparation rather than fear.

---
TABLE OF CONTENTS
Introduction--End-Times Super Trends
A Departure from the Faith: End-Times Apostasy
Alternative Religions in the End Times
Anything Goes: End-Times Moral Decline
Tolerance for All: The New Golden Rule
The Steady Deterioration of Religious Freedom
The Rising Persecution and Martyrdom of Christians
Marriage and the Family Unit in a Sexually Dysfunctional Society
E-Madness: The Escalation of Cyberattacks and Cyberwarfare
The Growing Nuclear and Electromagnetic Pulse Threat
Powder Keg with a Lit Fuse: Israel and the Middle East Conflict
Northern Storm Rising: The Coming Muslim Invasion Against Israel
Ready to Rebuild the Jewish Temple
The Coming Cashless World
Biometrics and the Loss of Personal Privacy
Globalism on the Horizon
Postscript--How Then Shall We Live?
Appendix--If You Are Not a Christian
Bibliography
Notes

---
AUTHOR PROFILE
Ron Rhodes, president of Reasoning from the Scriptures Ministries, is heard regularly on nationwide radio and is the author of The End Times in Chronological Order, 40 Days Through Revelation, and Unmasking the Antichrist. He holds ThM and ThD degrees from Dallas Theological Seminary and teaches there and at several other seminaries.

---
BOOK SPECIFICATIONS
263 pages, paperback, appendix, bibliography.
ISBN 9780736970259